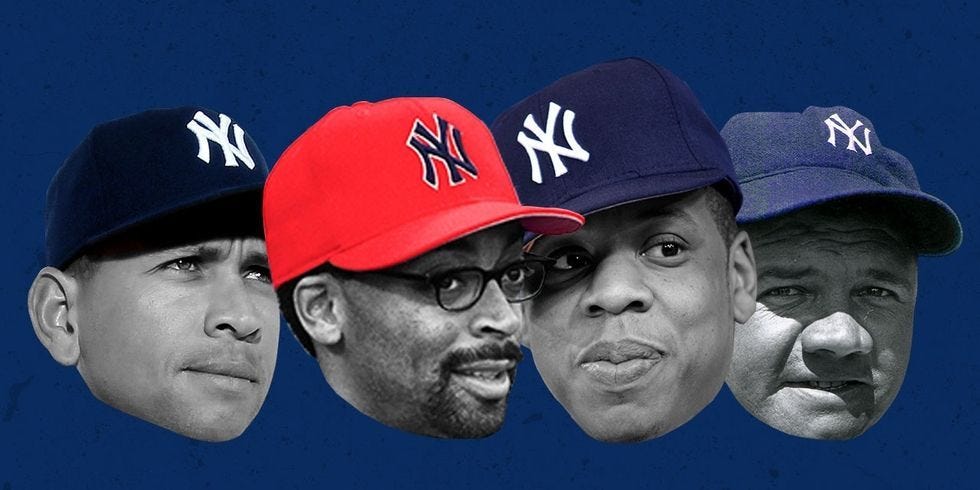 It's odd to think that there was a time when the Yankees baseball cap was, well, just a baseball cap, just another part of the New York Yankees uniform. It was functional. It shielded players' eyes from the sun, kept sweat from their brows, and showed which team a player was on. But it wasn't a fashion statement.
Today, however, the Yankees cap is ubiquitous. Everyone—from athletes, actors, and musicians, to your parents, friends, and kids—knows, and quite possibly wears, the iconic baseball hat. The cap reached true icon status recently, as one of the debut items in the Museum of Modern Art's exhibit, "Items: Is Fashion Modern?" which runs through January 28, 2018. Here's how it went from the confines of the baseball diamond to changing the course of fashion.
New Era, the company that makes hats for Major League Baseball, started working with the MLB in the 1920s, debuted its signature 59Fifty hat in 1954, and became the official on-field hat for every MLB team in 1993. In 1996, Spike Lee requested a personalized Yankees cap—one that wasn't in the team's signature navy wool.
"Back in '96, Spike Lee called and asked us to make him the Yankees baseball cap in red," says Chris Koch, CEO of New Era. "That moment started the fashion, street culture side of our business. It changed the way the world looked at headwear."
Before Spike's request, hats had only ever been made in the color of their team. A New Era Yankee's cap was navy wool with a white Yankees symbol. But the same cap, made in a personalized color, opened a world of…